Dares Surfacing are your go-to Tarmac contractors in Chard, Somerset. Are you in need of a professional tarmac contractor service? Give us a call! We're always on hand ready to answer any questions you may have and provide you with a competitive quote. We strive for perfection with all of the tarmac services we install in Chard; could this be your home we are working on next?
We supply the very best products and our groundwork technicians are all highly-skilled, experienced tradesmen. Don't hesitate to get in touch today!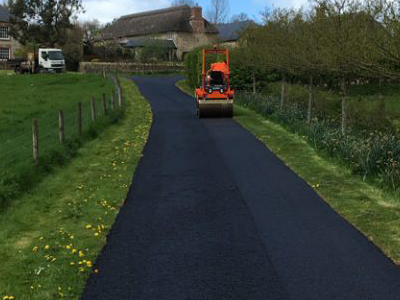 We know that finding reliable and professional tarmac contractors can be difficult, that's why we are here to help. We supply high-quality tarmac services in Chard that will last you for years to come. We can enhance the look, value and practicality of the exterior of your home. Tarmac is a fantastic material to use due to its longevity, durability and flexibility. When it is in its soft state, it is levelled and compacted to take on the exact shape of your driveway in Chard – Meaning that we can ensure you have a tarmac surface which is very easy on the eye AND highly durable.
Our tarmac contractors can offer a range of different styles & colours of tarmac drives to suit the look of your home. We can recommend the best option for you and tailor a solution to your requirements. Call Dares Surfacing today to discuss your tarmac needs.
The Benefits of Using Dares Surfacing as Your Tarmac Contractors  
Tarmac has many advantages over other materials. One of the primary benefits is that it is able to withstand all weather conditions. It is a durable material during the tough winter months as well as the blazing heat of summer, and everything else in between! Whatever weather conditions Chard has to offer, your tarmac surfaces will remain intact.
In addition to the weather, your driveway will also be subjected to the heavy weight and pressure of cars & vans. Tarmac is an excellent material for withstanding heavy weight, so if your household in Chard has more than one car, a tarmac driveway is an ideal solution. Compared with other materials, tarmac is one of the best for withstanding heavy pressure.
Tarmac is easy to maintain and keep clean, as well as being a highly cost effective solution for your driveway. The list of benefits goes on and on! If you have any more questions about our tarmac contractors then please contact us today for more information.
Why Choose Dares Surfacing in Chard?
At Dares Surfacing, we pride ourselves on our quality products and professional workmanship. We have many years of experience laying tarmac and many happy clients in Chard. We offer a professional and personal tarmac contractors service, and we are able to take on both commercial and domestic tarmac driveways work. We pride ourselves on our great reputation and the complete satisfaction of our customers.
For the best tarmac contractors in Chard, there is no one better suited for the job than us! Call today on 07970027614 or fill out our contact form online for a free, no obligation quote. We look forward to hearing from you and working on your new driveway!