Looking for an alternative to loose gravel, tarmac, block paving and concrete? Dares Surfacing offers resin surfacing in Laymore which will provide your home with a visually stunning alternative. We can transform your driveway, patio, steps, walkways and swimming pool surrounds? Give us a call for a free quote! We're always available to answer any questions you may have and provide you with a competitive quote. We settle for nothing less than perfection with all of the resin surfacings we carry out in Laymore. We supply the very best products and our groundwork technicians are all highly-skilled, experienced tradesmen.
Don't hesitate to get in contact today!
High-Quality Resin Surfacing Laymore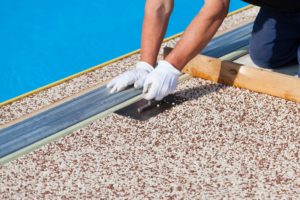 So what is resin surfacing? Resin bound aggregate provides a tough, easy to maintain and aesthetically pleasing surface that gives the appearance of natural gravel without the associated disadvantages. Our skilled Laymore team are able to carry out the resin surfacing in Laymore in a quick time frame. Dares Surfacing can use resin bound surfacing to transform your driveways, patios, steps, walkways and swimming pool surrounds.
Our wide range of aggregates allows each customer to select a colour which best compliments their property. The process involves blending a specially formulated resin with aggregate prior to application, which is then trowelled onto the desired surface for a smooth and aesthetically pleasing appearance. The resin mix is laid at a thickness of 18-20mm. For further questions about resin surfacing in Laymore, call Dares Surfacing today!.
We specialise in domestic transformations, but we continue to work on a commercial scale. Jobs of this nature include work at Ladram Bay Holiday Park, Costa Coffee in Plymouth and Woodlands Hotel in Sidmouth. Once a surface is fully prepared, we have the ability to lay up to 1000m2 of resin on a clear day. At Dares Surfacing we take pride in our ability to execute detailed resin resurfacing work according to exact specifications. There are many benefits of opting to use resin surfacing, Here are just a few:
Colour will not fade
Smooth finish
No joins or loose stones
Non-slip
No weed growth
Bespoke designs
Permeable
Resistant to petrol, diesel and oil
Very hard-wearing
Resistant to oil and weed growth
Why Choose Dares Surfacing in Laymore?
At Dares Surfacing, we pride ourselves on our quality products and professional workmanship. We have many years of experience with resin surfacing in Laymore and many happy clients. We offer a professional and personal service, and we are able to take on both commercial and domestic resin surfacing work. We pride ourselves on our great reputation and the complete satisfaction of our customers.
For resin surfacing in Laymore, there is no one better suited for the job than us! Call today on 07970027614 or fill out our contact form online for a free, no-obligation quote. We look forward to hearing from you and providing you with a resin surfacing option which is truly bespoke, individually designed and has a natural, beautiful appearance.